On January 9th, Tufts University's President Anthony P. Monaco visited San Francisco to give a lecture to Tufts' local alumni community. Tufts is my alma mater, and I was very excited to donate my music services to the event.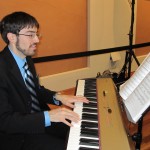 The event was held at San Francisco's beautiful de Young Museum in Golden Gate Park. I played the cocktail reception in the Piazzoni Murals Room – a bright, open space with very good acoustics. Museum staff set me up with a PA system to help spread my sound, as there were over 200 guests in attendance. This was definitely one of the largest crowds I've played for.
A great event with great guests. Thank you, Tufts, for the opportunity to be a part of it!